Request a FREE Quote
Virtual Estimate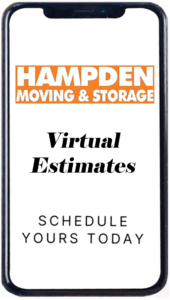 For customers who need an estimate for a future relocation, we are offering the option of a Virtual Moving In-Home Estimate. This enables our moving coordinators to calculate the most accurate moving quote for your local or long distance move.  We can work with you over your smartphone or tablet to determine:
– The number and size of items that fit into a truck
– The total cubic feet or weight of your belongings
– Items that need to be crated
– Layout of your spaces before moving day
– Entry/access options into your home and notation of any issues the crews might encounter on moving day
Just like any in-home estimate from Hampden Moving & Storage, our virtual survey is free.
How the virtual survey works:
Call (410) 609-3511 to schedule an appointment with a Hampden representative.
You will receive an email with a link to an app.
Open the app and a moving coordinator will walk you thru your home.
Receive your personal Moving Estimate from Hampden.
At  Hampden Moving & Storage, our mission is to provide affordable moving services backed by a name you can trust. We are a company built on a history of service, and it is our pleasure to assist you as you plan and prepare for your next move. Get your virtual survey quote today!