Request a FREE Quote
Residential Moving Services in Baltimore, MD and the Surrounding Area
Professional moving services in Baltimore, MD and serving the community since 1895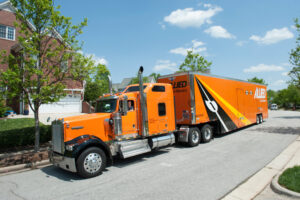 Moving your family can be an exciting chance to experience life in a new community. The move itself, however, can often seem daunting. Instead of tackling the moving process yourself, consider enlisting the help of professionals to make the moving process run more smoothly. While your family and friends may have helped others move before, there is no replacement for the certainty that comes from letting professionals handle everything.
Residential Moving Services to Fit Your Move
For your next residential move, hire one moving company to take care of the whole process. The full-service movers of Hampden Moving & Storage have customizable packages that can include everything from packing your belongings to assembling furniture in the new space and all in between. Although it can be tempting to save on your budget with low-cost materials and manpower, the proper equipment and moving professionals will make a big difference.
If you decide take care of the majority of packing yourself, we can help with delicate items such as antiques, fine art, and heirlooms. Kitchenware can be a challenge and lampshades are surprisingly delicate, so enlist the services of our team to make sure every item arrives in pristine condition to your new space. Our movers are licensed, bonded, and insured so you can have peace of mind. They have the materials and equipment to carry out your move in its entirety, from packing to loading, hauling, shipping, unloading, assembly, and storage, if needed.
Storage Services
Frequently homeowners find they need additional space, if only for a while. We offer short- and long-term storage solutions for our residential moves in our climate-controlled facility. This can come in handy if you run into a situation where the new space is not ready or construction is not finished. Sometimes you may have to move out of your old home before the new space is ready. Whatever the case may be, we have the solution.
Hampden Moving & Storage, an agent of Allied Van Lines, is a trusted, leading moving company in the Baltimore, greater Maryland, Virginia, and Washington, D.C. area. Contact our specialists for a free, no-obligation estimate to make your residential move a success.