Request a FREE Quote
Residential Moving Services in Baltimore, MD and the Surrounding Area
Professional moving services in Baltimore, MD and serving the community since 1895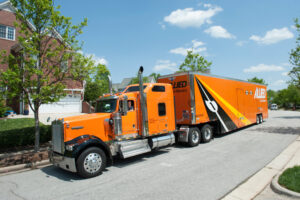 Some experts say that moving is one of the top five most stressful life events that people go through. Hampden Moving and Storage's moving services can help make the transition to a new home easier on your entire family, especially if you are moving with pets and kids. Our experienced movers can help make your move quick and smooth whether you are moving in town or across the country. Our customer service team can help you plan your move and will be there to help during the move in case you need questions answered or need help during the move.
To make your move easier, we offer a range of moving services that can be customized to suit your individual needs.
Some of the moving services in Baltimore, MD we offer include:
Planning and advice
Packing and unpacking your household goods
Moving large or oversize items like pianos, pool tables, or appliances
Loading and unloading your household goods
Free estimates for moves
Moving boxes, specialty boxes, tape, and other moving supplies
We Are With You Every Step of the Way
From the time that you first start planning your move to the moment when  your belongings are unpacked and the packing materials need to be taken away, our dedicated movers and customer service team will be working with you to ensure that your move is as stress free as possible. If you are too busy to handle the move, we can handle everything from packing up your home to removing boxes and packing paper after we unpack your items at your new home. All you have to do is walk through the doorway of your new residence. Our movers and packers are insured and bonded (check this statement against the company's valuation policy) so you can be confident that your furniture and belongings will be safe.
Hampden has earned its excellent reputation throughout the greater Baltimore area for honesty, integrity and outstanding quality service over the last one hundred and twenty-three years in the moving business. Our professional crews are well-trained, experienced and attentive to the residential customers' needs during their local moves.
If you just need some help loading and unloading your belongings, we can do that too. We offer free, customized, no obligation estimates that include all our moving services so that you will get a quote for just the services that you need.
Call Hampden today to get answers to your moving questions and to see how we can help you get into your new home quickly.